Best semi-solutions for iPhone 4 reception problems ... so far
[30-06-2010] - MSNBC
There's no great fix for the iPhone 4 reception issues right now. Here are the best pseudo-solutions so far.
What is going on?
Depending on how you hold your iPhone 4 during calls you may or may not notice your reception drop. Some haven't seen it at all, but many of our reade [...]
iPhone 4: (Almost) everything you need to know about the new Apple iPhone 4
[07-06-2010] - www.iPodPalace.com
The iPhone 4 was announced today during Steve Jobs' keynote at WWDC and the world is taken by storm again.
Its flagship features are, of course, the extremely high resolution screen, video chat capability with FaceTime, and the sexy new form factor. But there's more to the 4 t [...]
Skype 2.0 App for iPhone Enables VoIP Calls over 3G Network - and works with iPod touch too!
[30-05-2010] - www.tiPhones.com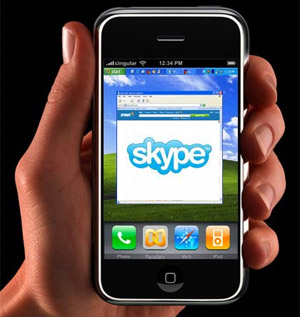 The new version of the official Skype 2.0 for iPhone has been released which now allows you to make VoIP calls on 3G data network. In addition to it, you can call [...]
Square: a new credit card swiping app for mobile phones
[15-05-2010] - compareandsave.com
A new mobile phone app which allows individuals to make credit card payments has been officially launched.
Retailers can download 'Square' and then plug a small plastic tube into the headphone jack of an iPhone, iPod Touch, iPad or Android phone in order to swipe their cards.
[...]
iPhone OS 4.0 in-depth analysis: who´s targeting Apple with the new OS?
[10-04-2010] - pcmag.com
Apple's iPhone OS 4 may have more than 100 new features, but it established three big targets for Apple: Microsoft, Google and RIM. To some extent, it also showed that Apple considers Palm and Nokia to be irrelevant.
The new OS which Apple announced April 8th has plenty of inn [...]
Five Predictions for iPhone OS 4.0
[07-04-2010] - PCWorld.com
Apple didn't even wait for the iPad dust to settle before summoning the media to its next big event. On Thursday, journalists will gather once again ostensibly to hear about the next-generation of the iPhone operating system, and possibly an unveiling of the next-generation iPhon [...]
Skype iPhone App Is iPad Compatible, but Lacks 3G Calling
[07-04-2010] - eweek.com
Skype released an updated version of its free iPhone app with iPad compatibility on April 6, but the program does not include support for 3G-enabled Skype calls. While a WiFi-only version of the iPad is currently available, a version of the device with both WiFi and 3G will go on [...]
We Rule for iPhone: your personal mobile feudal reign - almost Farmville!
[28-03-2010] - Ngmoco
Let's admit it, we can't look forware for Zynga to release any Farmville sort-of for iPhone & iPod touch.
In the meantime, meet
Ngmoco's
We Rule
for iPhone.
In a nutsh [...]
iPad will be a blind-friendly e-book reader
[17-03-2010] - geekwithlaptop.com
As an e-book reader, the iPad won't have to deal with one of the headaches that has haunted Amazon's Kindle.
As reported by Wired, when Apple began taking pre-orders for the much-anticipated device on Friday the company offered some details on how its e-books will work. Not on [...]
Why the iPad Will be the E-books Battle Arena
[14-03-2010] - PCWorld.com
Barnes & Noble says it will launch an iPad version of its eReader app, in anticipation of the release of Apple's device on April 3. The app will compete with Apple's own iBook store for e-books, and Amazon could jump on board any time now.
E-books on the iPad have been the sub [...]
AP to Sell News On iPad With Subscription Service
[03-03-2010] - cooltechzone.com
The Associated Press (AP) is interested in selling news on the Apple iPad through a subscription service as the device heads for sale. The AP is interested in charging for its content through a subscription fee over advertising that a lot of Web news content relies on, reports Th [...]
Hexen II coming to iPhone and iPod?
[27-02-2010] - ipodnn.com
The first-person shooter Hexen II, originally developed by Raven and published by id in 1997, could soon be available for the iPhone and iPod touch. Developer Vimov says it has been working on a port of the game, using publicly available source code. The title is set in a fantasy [...]
Rating5.com Launches iPod Video Suite 3.0
[27-02-2010] - Rating5.com
Rating5.com, a leading developer of digital photo editing, video editing and multimedia software, today released iPod Video Suite 3.0, a bundle special offer which contains DVD to iPod Ripper 3.0 and Video to iPod Converter 3.0 for expressing appreciation to their enthusiastic cu [...]
Networks Wary of Apple's Push to Cut Show Prices
[27-02-2010] - NYTimes.com
If Apple cut the price of each TV episode in half — to 99 cents, from $1.99 — would sales on iTunes increase enough to offset the price drop?
Much of the TV content on iTunes is $1.99, be it the newest "Lost" or an old sitcom. CBS says it will discount some shows.
Experiments [...]
What the Apple iPad really is
[08-02-2010] - infoworld.com
Enough ranting: The iPad isn't what I thought it would be, either. Focus on what it's truly designed for and you may like it
As with the launch of every new Apple product, detractors and enthusiasts have dug in, with one side proclaiming the iPad an instant failure and the oth [...]
Apple confirms 3G VoIP apps on iPad, iPhone, iPod Touch; Skype is waiting
[30-01-2010] - latimes.com
Apple Inc. confirmed last night that it is now allowing iPhone, iPad and iPod touch developers to build apps that can make Internet calls over a 3G cellular network.
"We revised our Program License Agreement in conjunction with our updated Software Development Kit for iPhone, iP [...]
The wait is over: iPad from Apple!
[27-01-2010] - www.iPodPalace.com
Right now, Steve Jobs is uncovering the new iPad (the much awaited Apple tablet!)
Stay tuned! [...]
iPhone BackFlip: simple, practical, inexpensive! (the perfect gift!)
[15-12-2009] - SourceCrowd.com
The
BackFlip
iPhone is number 1: read all facts and figures
[13-11-2009] - edn.com
I've talked before about just how amazing Apple's performance in the cell-phone (and laptop) market is. Last quarter, only two years after entering the cell-phone market, Apple became #1, at least if you measure by how much money they made rather than how many phones they shipped [...]
Kodak creates print and share app for iPhone
[13-11-2009] - Kodak.com
Kodak has introduced the Pic Flick print and share application for Apple's iPhone and iPod Touch.
Currently available only in the US, the free app allows users to wirelessly print images from their iPhone and iPod Touch on Kodak's recently released Wi-Fi-enabled ESP 5250 All-in- [...]
iBonsai iPhone app: a unique digital abstraction of the bonsai experience
[01-11-2009] - Brainpowerlabs
iBonsai is an application for the iphone which aims to add a bit of poetry to the otherwise chaotic world of digital gadgetry.
The application simulates the art of growing japanese bonsai trees on the mobile device.
Rock Band for iPhone Hits The App Store!!!
[19-10-2009] - Washington Post
The much anticipated and hyped Rock Band for iPhone and iPod Touch is out! We first scooped the news of the launch of the app a few weeks ago. Shortly afterwards, Rock Band for the iPhone/iPod touch was officially announced by Electronic Arts. The app costs $9.99 and can be found [...]
Metallica Launch Official iPhone App
[08-10-2009] - Metal Hammer
Come and see what it does inside!
Metallica have launched their own LiveMetallica iPhone app!
A full statement from the band on the iPhone app reads:
"In our ongoing effor [...]
Huddle Launches iPhone App, Web Conferencing and Office Integration
[30-09-2009] - Huddle.net
Huddle.net has today launched new features for its online enterprise collaboration platform including web conferencing, deep integration with Microsoft Office and an iPhone application. The company also extended its reach to some of the largest telecoms resellers in the US.
[...]
Funding for iPhone start-ups passes $100 million
[14-07-2009] - CNET
Start-ups have raised more than $100 million to build iPhone applications, but where are the business models?
Recent data from Chubby Brain identifies $102.49 million in total VC/angel investment divided among 17 iPhone application start-ups.
The iPhone is a great mini-comp [...]
GameBone Pro game controller for iPhone
[30-06-2009] - GizMag
With the ever-increasing number of games available for the iPhone and iPod Touch through the App Store it seems many users find the devices an acceptable gaming platform. One of [...]
UK ATMs set to offer WiFi access, free for BT and iPhone users
[28-06-2009] - Engadget
BT Broadband customers and O2 iPhone owners, rejoice -- some 2,500 ATM machines near you will soon be converted to serve as free WiFi hotspots, courtesy of BT Openzone and Cashbox, perhaps the most mismatched pair of commercial metaphors ever put together. The initial rollout sta [...]
HSBC offers business banking to iPhone users
[25-06-2009] - vnunet.com
HSBC has become the first financial institution to offer business banking on the Apple iPhone and iPod touch handsets.
The HSBC Business Internet Banking service has been optimised for the Apple devices, and offers quick and easy access to secure, real-time banking information [...]
iPhone 3.0 hands on video
[29-05-2009] - Engadget
We know that some time has passed by since the first iPhone 3.0 sighting, but this video is still updated with all infos.
That's why we re-posted it, enjoy!